Exciting about launching a new website? Then this article is for you to make your website launching more optimized and better. Before taking the steps of launching your new online website, maybe you need to think again that does you are missing something or not? Usually, people only focus on the style, colors, and other front-end features of a website before making it live. But there are many more things which are both important and optional for making your website better. And if you do not care for the below factors, then there can be a chance that you do not get the satisfaction that you need while making your website live. So let come to the point and discuss what the factors are which you need to consider before launching your website. Checkout 15 things to do before launching the website.
Colors combination of your Website
Designing your website with a great color combination is the first-ever step that you need to consider before making your website live. As the best way to make your website more tempting is by using a great and unique color combination. Mostly the default color of your theme and website builder is pretty enough to make your website adorable.
So if you feel satisfied with the default color, then keep it the same. As the color you choose is going to represent your website later and your logo and anything related to your website are of the same color. So choose your color wisely.
Checkout the right fonts for your visitors
We all know that a website without having readable content is nothing but crap. For making your online website more attractive and impressive, you should have the right fonts and text size. The font you choose must be matched with your website colors and looks perfect on your website. You can easily found millions of fonts design online. Some of them are really great while some are just dull. It's all based on your website design, the color you choose, and the theme you prefer. So we can consider that the text size and text design of your website should be well checked before making your website online.
Link your social media with your website
Before making your website live over the internet, you should attach your social accounts with it. Because having social media accounts is the best way to make people trust you. From personally to professionally, social media is the best way to making people trust you and promoting your products. So before launching your website, you need to have a social media account and connect them with your website. It makes people help to find you online and improve your SERP ranking.
Check your Content before publishing
I hope you know the value of a valuable piece of content. Your content can be anything like a product review, an interview, or any other blog article. But it should be mistake-free and proper to give your audience the best impression. You should avoid any grammar mistakes or spelling errors before publishing your website. That's why most website managers hire freelancers and writers so that they get the best content for their website.
Test the functionality of your Website
Testing the functionality of your website is one of the major work which you need to do before making your website live. You need to make sure that every element and button of your website is working correctly without showing any error. For testing this, you need to have enough programming skills and if you don't have then you can hire a program that will test this point on your behalf. It does not take plenty of time if you don't have a large and huge website that has hundreds of pages and images.
Optimize Images & videos of your website before publishings
For making your website perform and online, you need to consider the optimization of your images and videos. Resizing your images and make their weight decrease is the best way to make your website optimized. Because without photos and videos your blog post will never look complete so always try to add many photos that will attract your visitors and clear their concept. Including videos in your content is another great way in which you can try to give your website amazing looks.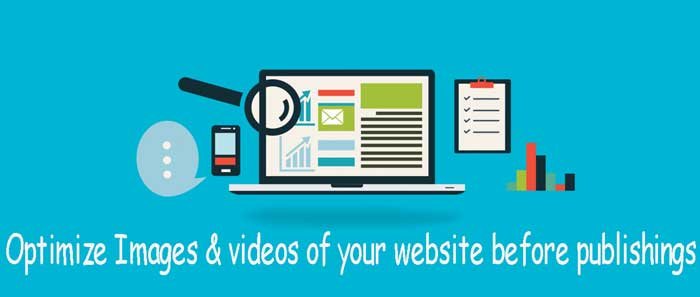 15 things to do before launching Your website