Using a VPN has become a necessity in this digital world if you want to safely browse the web. Thankfully, there are lots of trusted VPNs available among which you can choose anyone. Out of those trusted VPNs, today we are going to do a detailed comparison between CyberGhost and ExpressVPN. Through this CyberGhost VPN vs ExpressVPN comparison, we will compare the various aspects of these VPNs like features, benefits, limitations, pricing, etc. to find which is better ExpressVPN or CyberGhost.
Overview Of ExpressVPN Vs CyberGhost VPN Comparison
| | | |
| --- | --- | --- |
| Features | CyberGhost VPN | ExpressVPN |
| Jurisdiction | The British Virgin Islands | Israel |
| Servers | 3000+ servers in 94 countries | 7100 servers in 91 countries |
| Encryption | AES-256-bit | AES-256-bit |
| No-Log Policy | Yes | Yes |
| Average Speed | 44 Mbps | 27 Mbps |
| User Support | 24/7 Live Chat | 24/7 Live Chat |
| Money-Back Guarantee | 45 days | 30 days |
| Lowest Monthly Pricing | $2.25 for a 3-year plan | $8.32 for a 1-year plan |
ExpressVPN or CyberGhost VPN, Which Is More Affordable?
In the short run, both CyberGhost and ExpressVPN will cost you the same. The pricing of the 1-month plan of CyberGhost and ExpressVPN is $12.99 and $12.95 respectively.
However, in the longer run, you will find CyberGhost way affordable than ExpressVPN. The long term pricing of CyberGhost VPN vs ExpressVPN is as follows:
| | | |
| --- | --- | --- |
| Time | CyberGhost VPN | ExpressVPN |
| 6 Month | – | $9.99/month |
| 1 Year | $3.99/month | $8.32/month |
| 2 Year | $3.49/month | – |
| 3 Year | $2.25/month | – |
The plans of ExpressVPN are also backed with 30 days money-back guarantee that is nice for testing the service of this VPN. Whereas, CyberGhost offers a 45 days money-back guarantee to its users.
Now, let us see what features do these VPNs offered concerning their prices.
What Features Does ExpressVPN Vs CyberGhost VPN Offer?
Both CyberGhost VPN vs ExpressVPN provides a plethora of features to their users. So, let's have a look at those features one by one.
Features Offered By CyberGhost VPN
Masking IP

: CyberGhost boasts to mask your IP address. In this way, it helps you in anonymously browsing the web.

Wi-Fi Protection

: It also provides you protection against hackers while using public Wi-Fi connections.

No-Logs

: Like most of the famous VPN brands, it also operators with a no-log policy. It also keeps publishing transparency reports regularly.

Bypass Geo-Restrictions

: It can bypass internet censorship and let you access websites banned in your region.

Unlimited Bandwidth

: You can use this VPN as much as you want without worrying about bandwidth.
Features Offered By ExpressVPN
Anonymous Browsing

: ExpressVPN masks your IP address and lets you browse the web anonymously.

Kill Switch

: It provides a kill switch that prevents your IP from getting exposed if the connection to the VPN drops.

No Session Logs

: It also operators with a no-log policy and does not monitor your browsing activities.

Unlimited Bandwidth

: Like ExpressVPN, it also provides unlimited bandwidth does not limit your traffic.
So, these are the major features offered by these VPNs. Now, let's have a contrast of the various aspects of ExpressVPN vs CyberGhost VPN.
Which VPN Provides Better Security, ExpressVPN vs CyberGhost VPN?
For securing the data of users, ExpressVPN uses the top-level AES encryption with a 256-bit key. This is one of the most secured encryption types and is even used by many intelligence agencies. Besides this, ExpressVPN also uses some of the most important VPN protocols including Lightway, OpenVPN, WireGuard, IKEv2, etc.
Same as ExpressVPN, CyberGhost also uses the AES-256-bit encryption for securing the traffic of its users. The major protocols that are used by CyberGhost VPN are OpenVPN, IKEv2, WireGuard, L2TP, etc.
So, in this way, both ExpressVPN vs CyberGhost VPN allow you to safely browse the web.
CyberGhost or ExpressVPN, Which Is More Private?
Both CyberGhost and ExpressVPN operators with a no-log policy, however, we recommend using ExpressVPN if you are looking for a private VPN. The main reason for this is:
ExpressVPN keeps only minimal information of you for creating and managing your account.

It is based on the British Virgin Island that doesn't come under the jurisdiction of any major country.

It one among the few independently audited VPN brands.
Likewise, CyberGhost also promises not to monitor your activities or not to keep any session logs. However, it has not yet been independently audited. Besides, its parent company is based in Israel, which is a supporting member of the 5 eyes alliance.
Which VPN Is Fast, Express VPN or CyberGhost VPN?
Both ExpresVPN and CyberGhost are very fast and lets you stream your favorite shows without lag. However, ExpressVPN provides better connection speed compared to CyberGhost.
In our test, ExpressVPN provided an average connection speed of 44 Mbps that is really great. However, CyberGhost provided an average speed of 27 Mbps that is very low as compared to ExpressVPN.
So, if you are looking for a faster VPN then it is worth going with ExpressVPN.
ExpressVPN vs CyberGhost, Which Has A Better Range Of Servers?
ExpressVPN has a quite decent range of around 3000 servers. These servers are placed in 94 countries and provide you access to the 160 virtual locations.
Compared to ExpressVPN, CyberGhost has a quite big range of around 7300 servers. These servers are also evenly spread in around 91 countries and provides you access to the 113 server locations. However, while researching, we found that there is a lot of load on the servers of the CyberGhost VPN. Due to this, you may experience unnecessary connection drops or slow speed while using it.
CyberGhost VPN vs ExpressVPN, Which VPN Works Better With Netflix?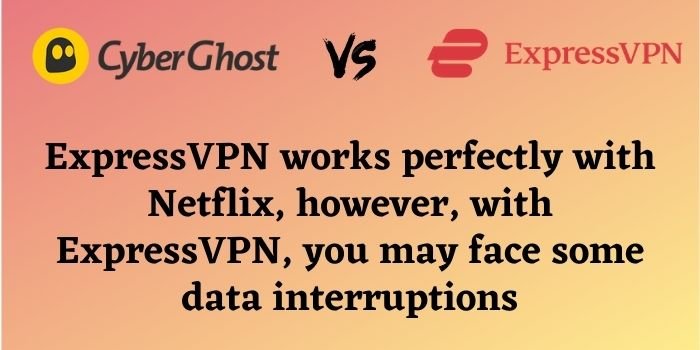 Most users buy a VPN to access Netflix or other entertainment sites/OTT platforms. As mentioned above, both VPN are capable of unblocking geo-restricted sites. Now, let's check how they perform with Netflix.
ExpressVPN works excellently with Netflix and allows you to stream it on various devices. It is capable of unblocking the various Netflix libraries including the US, UK, Japanese libraries, etc. It also has worldwide servers optimized for Netflix that provide great connection speed and allows you to stream Netflix in Ultra HD quality.
In our tests, CyberGhost was also capable of unblocking Netflix. Besides, it also has some Netflix-optimized servers that can enhance your streaming experience. Though, as we have mentioned earlier, there is a lot of load on the servers of CyberGhost, due to this you may face some speed-related issues with CyberGhost.
Both CyberGhost vs ExpressVPN can bypass the VPN detecting bots of Netflix. Though, it is better to go with ExpressVPN if you want to stream Netflix smoothly without any interruptions.
Which VPN Provides More Apps, ExpressVPN Or CyberGhost?
Both CyberGhost VPN vs ExpressVPN works with a variety of devices and provides various kinds of apps.
CyberGhost VPN has divided its apps into 6 categories and these are:
Desktop Apps

: For Windows, Mac, and Linux devices.

Mobile Apps

: For iOS and Android devices.

Browser Apps

: For Chrome and Firefox.

TV Apps

: For FireTV, Android TV, Smart TV, and Apple TV

Consoles Apps

: For Xbox One, Xbox 360, Playstation 3, and Playstation 4.

Router Apps

: For Routers and Modems.
With a single subscription, you can use the CyberGhost VPN on a maximum of 7 devices.
ExpressVPN also works with a large number of devices. These devices are:
VPN For Top Devices

: Works on Windows, Mac, Android, iOS, Linux, Chromebook, Routers, etc.

VPN For Browsers

: Works on Chrome, Firefox, and Microsoft Edge.

ExpressVPN For TVs

: Works on Smart TVs, Apple TV, FireTV, Samsung TV, Roku, Chromecast, Android TV, and Nvidia Shield.

For Gaming Consoles

: Works on Playstation, Xbox, and Nintendo Switch.
You can install ExpressVPN on as many devices as you want. However, at a time, it can protect a maximum of 5 devices.
CyberGhost Vs Express VPN: User Support
Both ExpressVPN vs CyberGhost VPN provides great support to their users. They offer decent 24X7 chat support to their users. This can help you in solving technical issues.
Besides, they also have many tutorials and blogs that can help you get rid of minor issues.
CyberGhost VPN vs ExpressVPN: The Bottom Line
After analyzing the various aspects of these two VPN brands, it is clear that ExpressVPN has an edge over CyberGhost in most aspects.
If you are looking for a powerful VPN with great security, privacy, and streaming features, choosing ExpressVPN is worth it.
However, if you want to stream geo-restricted sites at least price, then you should definitely go with CyberGhost VPN.
Also Read: ProtonVPN Vs Hola VPN
CyberGhost VPN Vs ExpressVPN | Which VPN Is Better For Streaming?