Personal blogging simply comes under a single person rather than any team or company. It is an online platform where you post stories, personal experiences, opinions, or even images or videos. A personal blog is not bound to follow any specific regulation. You just need to keep up with your interest which targets a certain audience. As we said before you are free to write, it may be any review from old myths to the latest ongoing stuff or may be related to any genre which is realistic or fictional.
Here we will cover every basic possible question that arose from this term Personal blogging.
What Are The Types Of Blogs?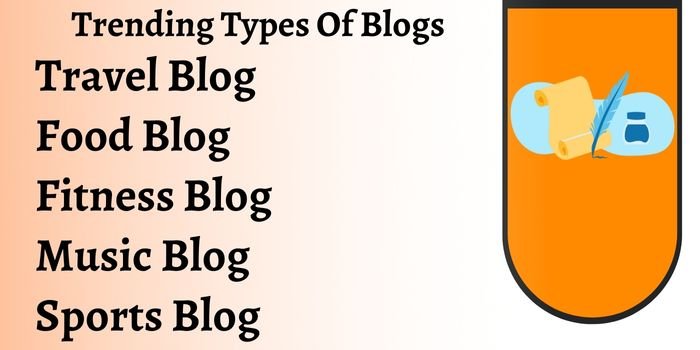 The types of blogs are vast in numbers but here, we have stated some of the most common types of blogs.
Travel Blogs: Generally, viewers are easily attached to travel blogs that's what makes it a competitive niche. These bloggers are supposed to share their traveling experiences, tips, and many more.
Fitness Blogs: Another most useful type nowadays is Fitness, for people which helps us to suggest a healthy diet, exercises or many tips related to them.
Fashion Blogs: It works on providing information on the latest, fashion, and lifestyle related to celebrities.
Music Blogs: These blogs focus on musicians and their lifestyles or work that keeps you updated on the latest information.
Sports Blogs: It is all about sports, these may be categorized into different sports which share sports matches or players-related updates.
What Are The Benefits Of Personal Blogging?
Check some benefits that you'll get after starting a personal blog:
It's a virtual source where you can share your opinions or something new with readers.
A personal blog work as your journal or diary.
You can connect yourself with other bloggers, which will help you to learn more.
You can start and grow your blog as a brand, which would be beneficial for you.
What Are The Reasons To Start A Personal Blog?
Here are a few reasons which help to know why you must start a personal blog?
Learning Purpose
In personal blogging, when you start working on it you'll have to go through other articles, websites, or any source. This simply upgrades your knowledge and when you write it in any language, ultimately that will improve your writing skills. A blog topic research simply improves the analysis ability and explores something new in any aspect.
Building Network
After starting a blog, you will begin to connect with other bloggers who share the same niche as yours. It simply helps you to learn that will ultimately expand your blog reach. After a while, you will be able to grow your blog. You must know how to increase your website and blog traffic.
Get Viewers Reach
In personal blogging, you can share your blog online that bring new readers along with your known ones. You can also share your blog link through social media, which will promote your blog and yourself also.
Make Your Brand
It is up to the quality content that you provide to your audience. If your blog can get a positive response or somehow helps people, then you can go against all odds. You'll observe the growing number of monthly viewers, which will be better for your blog.
Monetize Your Blog
That is what almost every blogger is looking for, monetize content. After you would have started receiving amazing traffic on your blogs, then you can monetize it. You will be able to generate a good income through them, which is everything you want. You'll know how to make money by making blog posts.
Product Sales
Another way to earn, you can sell your products or services online, which is proven a major reason to start personal blogging. You can also turn your blog into an e-commerce website that will bring benefits to you.
How To Start A Personal Blog?
Here are some steps, that will help you to become a blogger and start personal blogging in 2023 within a limited budget.
Get Domain & Hosting Plan
Almost every website on the internet has a hosting provider service. A Web hosting service simply runs your website and makes it available to show a huge amount of data to your viewers. The domain is a permanent address of your website. Many websites offer a free domain for new users. You can also start a professional big website that can give your website a unique identity in front of its audience. You can also check how to start a free blog on Blogspot & how to write the best headline on Blogspot.
Get Install Blogging Platform WordPress
Install WordPress on your device where you can work on a WordPress blog. After it, you'll get verification mail from the hosting service. It will make available a wizard that will get done the installing WordPress process on your website. You have to launch the wizard and then have dashboard access to your website.
Start Writing Blog
Through the menu option to launch the WordPress editor this will let you write or edit in it. Using blocks you can put paragraphs, images, or videos. It includes every extra effort you put into it like infographic, text font, size, and readability. You have to consider both content quality with other aspects like readability, images, and graphs.
Adjust Theme
In personal blogging, after you have created a post, you must make it look good. WordPress offers various themes that will help you to look your blog unique and attractive. The WordPress customizer makes this theme looks controlled in your hand. You can customize any available theme of it.
Adding Functionalities
After looks, you have to set up your website in a structure, like when you have a blog you'll have post and pages category. You can create more functionality with plug-ins like contact forms, About Us, and Social Network icons. You have to install such Plug-ins, some of them are free and paid for too.
Conclusion Of Personal Blog Meaning
We are sure you're clear about this personal blogging concept and these pieces of information would mean something to you. If you are about to start your blog, then it is time to get started with a suitable hosting plan and get a domain. A personal blog can be used to share knowledge, views, or for any purpose. You have to just start your blog with these tips to get many benefits.
Check out the steps to set up a website which can be done by choosing a web hosting and a domain name. You can also change the look of your blog by setting up or customizing a theme.
FAQs Of Personal Blog & How To Start
Here are some queries that will help you to solve your doubt about how to start your blogging platform.
What Is Personal Blogging?
The personal blog is an online platform on which any journal, opinion, or anything can be shared by a person, not by any organization or company.
What Does Personal Blog Mean In Instagram?
A personal blog on Instagram can be shared on a post caption which has a limit of 2200 characters. It is also known as microblogging, which means you can't post a full-length article on it.
What Are The Personal Blog Examples?
Mashable, Woogs World.com, and Hyperbola and a Half are the most common examples of personal blogs.
What Does Personal Blogging Mean?