When it comes to editing and retouching photos, you must have listened to Adobe Photoshop. Photoshop is the industry-standard software that enables users to edit photos to make some changes to look better than before.
Photoshop has numerous features and limitless potentials that enable creative artists to create brilliant and unbelievable effects. But before choosing this software, one should be aware of the Pros and Cons of Adobe Photoshop that we will share with you later in this article. Before we move ahead, let's find out what is Photoshop?
---
What is Adobe Photoshop?
Adobe Photoshop is a Photo editing and manipulation software. It offers a large range of features for photo editing and to create digital drawings and paintings.
This video editing software is developed and published by Adobe inc. for Windows and macOS and initially, it was released in 1988. It comes with numerous tools and features for enhancing and creating images. Apart from images and photos, it also allows you to create or edit illustrations, artwork, and videos.
---
What are the Pros and Cons of Adobe Photoshop?
There are several advantages and disadvantages of adobe photoshop that are worth considering before purchasing this photo editing software. Below are have outlined some of the key points to think about before subscribing:
What Are The Advantages Of Photoshop?
Below are some of the Pros of adobe photoshop:
Plenty Of Designing Tools
The tools adobe photoshop offers are suitable for web and mobile responsive. The interface it offers is user-friendly that anyone can use to edit photos without taking many struggles that's why Adobe photoshop considered being one of the best photo editing software for beginners. It comes with a sheer number of editing tools that enable users to take charge of the creative process.
Easy Cropping and Resizing
With Photoshop, You can easily crop or resize your photo. It comes in handy if you are handling a social media account, which comes equipped with scheduling that asks images to have less size. It allows you to resize higher resolution images with perfection to create a platform-specific image.
Useful for Photo correction or Manipulation
By using the tools of Adobe Photoshop, you can create an attractive masterpiece. Photoshop comes with no virtual limits and let you enhance your editing skill. It allows you to cleans out specific colors from an image to create unique visual effects in no time.
Instead of letting you search for stock images, Photoshop provides its users with an integrated stock library. It help users to create or edit a perfect photo or video. The stock library is also synced through photoshop that allows users to move quickly from task to task so most of the user's time spent working.
Not just a photo editing software
Adobe Photoshop does not just allow you to edit photos but it has the ability to edit videos and animations with the same ease. Photoshop is one of the best graphic designing software in the industry that you can use to edit or create video and animation. Apart from videos and animations, it allows you to create digital drawings, paintings, and illustrations.
Related Reads: Top Comic Software For PC
---
What Are The Disadvantages Of Adobe Photoshop?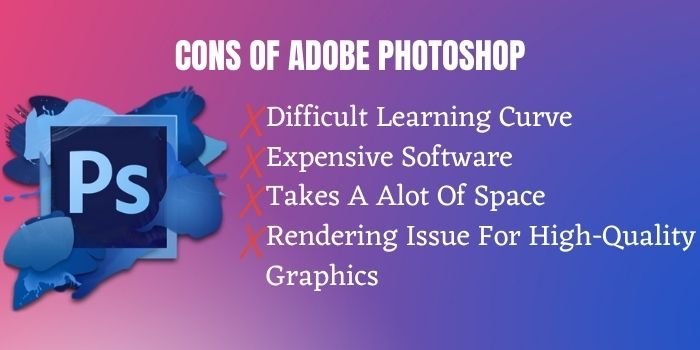 Some of the major cons of Photoshop that you must consider before purchasing this digital art software are below outlined:
Complicated learning curve
With all the functions and tools together, it is quite difficult to master this digital art software. Even experienced users struggle from time to time with the learning curve of this program. One has to invest a sufficient amount of time to learn the functions and tools.
Difficult rendering for High-quality graphics
Photoshop has difficulty in rendering high-quality files with large sizes because they consume more time for loading and editing. Therefore it decreases the work performance and efficiency of users.
Photoshop comes with an expensive price tag that organizations and institutional artists may afford but small businesses and small-time users may not be able to purchase due to its whopping price tag. They would consider relatively cheaper or affordable options
Photoshop takes up a lot of space in the system hard disk. Even images or photoshop consumes a lot of space. Therefore, we would recommend you to keep this photo editing software on a large hard disk that has a lot of space.
Also Read: Difference Between Traditional Art vs Digital Art
---
Is Clip Studio Paint Better Than Photoshop?
Clip Studio Paint and Photoshop are two of the best and widely used digital art software. Both come with a wide range of effective features that let users create amazing and attractive artworks. Both digital art software is meant to use for specifically digital art, However, both serve a different purpose. Not only Photoshop but many other software are there in the digital art industry. you have to find the best Clip Studio Paint Alternatives.
Both digital art applications have some similarities as well as differences that make them tough competition for each other. Below we have compared both Clip Studio Paint vs Photoshop in short. Check out the comparison:
Features & Tools
Clip Studio Paint
Adobe Photoshop
Introduction

Clip Studio was released in 2001 by a Japanese software development company Celsys.

Adobe Photoshop was initially released in 1988. It is developed and published by Adobe inc.

Best For

Character Art, Concept Art, Illustration, Manga & Comic and Animation artists

Professional artists and Photographers

Design

It has a pure white interface. To start a new project, it opens a new tab and asks you what you want to create.

Unlike CSP, It comes with a classic black theme. Adobe Photoshop has a nice menu & presets.

Color Tools

It is equipped with a color wheel tool and other useful color tools in the color tab which is called Proximate color.

Photoshop has a new upgraded color wheel tool. Earlier users have to use external color plugins to get the desired color wheel.

Brushes

Comes with a wide range of brushes, pens, and pencils with different pressure sensitivity. It also allows users to create their own brushes or purchase from other developers in the community.

Photoshop has a common brush extension where users can find hundreds of online brushes. It allows users to customize their brushes for different purposes.

Blending Mode

CSP comes with a decent blending mode feature that naturally mixes the colors. The blend mode allows you to add or dodge glow.

Photoshop provides its users with an exclusive blending mode to mix the colors. Also, you will get a wide range of filters along with high-pass filters.

Performance

It performs perfectly fine until 60 layers illustration when it annoyingly starts showing a Pop-up message box again and again.

Photoshop offers more than 150 layers in illustration and performs seamlessly fine. However, some special effects and filters may cause some lagging issues.

Price

It has two versions which are Pro & Ex and offer one-time payment at the price of:

CSP Pro: $49.99

CSP Ex: $219.00

It offers a monthly subscription which starts from $20.99 per month.
Also Read: Clip Studio Paint Advantages And Disadvantages
Conclusion
Despite having many disadvantages of Photoshop, It continues to dominate the digital art industry with its powerful editing features and tools. Photoshop provides every user with something that's why it is considered to be one of the best digital art software.
Now you got to know the major pros and cons of adobe photoshop and you will not have any confusion before purchasing this graphic design application.
Pros And Cons Of Adobe Photoshop 2023 – A Detailed Guide