Bitdefender Total Security and Bitdefender Family Pack are two of the most confusing products that people find difficult to choose the better one. Both software appears to be similar in many aspects but there are some differences also.
Through this detailed Total security vs Bitdefender family pack comparison guide, we will try to help you choose the best suitable security product for yourself. Also, we will be discussing the similarities as well as their differences of the Bitdefender family pack and total security along with the security features of both Bitdefender products.
---
About Bitdefender Antivirus
Bitdefender is a Romanian cybersecurity company, headquartered in Bucharest, Romania. It was founded by Florin Talpse in 2001. Currently, it is one of the well-known plus most recommended antivirus brands around the globe.
Also, Read Pros And Cons Of Bitdefender Antivirus
---
Bitdefender Total Security vs Bitdefender Family Pack
Bitdefender has various cybersecurity products includes among its all products, Total security and family pack are some of the most popular software that has millions of users. 
As mentioned earlier, due to the similarities of Total Security and Family Pack, people often confused to choose the best suitable security pack of Bitdefender for themselves. So which one you should choose Bitdefender total security or family pack?
Let compare both Bitdefender software to find out.
---
What is Bitdefender Total Security?
Total security is one of the advanced security products of Bitdefender that offers a top-notch level of security for your devices. It protects user's devices from spyware, malware, spams, viruses, and malicious stuff. Bitdefender Total Security 2021 provides its users a secure environment from phishing, privacy stealth, and spying eyes. 
In advance, you get several other features to enhance your system security and performance. There is a file encryption feature to encrypt important files and a one-click System tune-up to speed up your system. You also get parental control that allows you to keep off your kids from inappropriate content.
It offers protection for Windows, macOS, Android, and iOS compatible devices.
---
What is Bitdefender Family Pack & What does it include?
Bitdefender Family Pack is one of the best antivirus solutions for large families. Families having 10 or more internet-connected devices such as PC, mobiles, tablets, laptops can choose this pack as it covers all devices in a single pack. 
Users can protect all these devices from a single central account. It protects user's devices from malware, adware, and spyware and also provides multi-layer ransomware protection that keeps user's devices protect all around. You also get parental control with the Bitdefender family pack to control your kid's online appearance.
The family pack supports and works perfectly fine on Windows, macOS, iOS, and Android tablets/smartphones.
---
Bitdefender Total Security vs Bitdefender Family Pack: Differences
The only difference in both security software has the number of devices you can protect. Total Security offers protection for up to 5 devices, whereas, the Family pack allows you to protect up to 15 devices with one account.
Another difference between both security products is their price that we will discuss later in this article.
---
Bitdefender Total Security vs Bitdefender Family Pack: Similarities
Both Bitdefender security products have similarities in their features and some of the major features that you get with both software are below outlined:
Antivirus & Antimalware
Bitdefender has one of the most efficient anti-malware solutions available that works and protects users against all e-threats from viruses, worms, plus Trojans to ransomware, rootkits, spyware, and zero-day exploits.
---
Multi-Layer Ransomware Protection
The Multi-layer ransomware protection of Bitdefender works against ransomware that offers a data protection layer to protect user's documents, photos, videos, including other data from any ransomware attack.
---
Parental Control
Total Security and Family pack both offers parental control. It lets you limit the time your kid can spend on the internet. It also allows you to select the content categories that your kid can visit that help you keep your kids off from inappropriate content. There is a child location feature that tracks the child's location also notifies you where your kid has been all day.
---
Device Optimizer
Both security packs come with a device optimizer that lets you optimize your system in one click. It lists the unnecessary software that may be slowing down your PC. You can easily disable or uninstall these programs that improve the performance of your system. It also speeds up your system by removing junk files.
---
Other common features
Both, Bitdefender Total Security and Bitdefender Family Pack have some common features such as complete real-time data protection, Anti Tracker, Bitdefender VPN, Privacy Firewall, Adware Blocker, Web Attack prevention, App lock, Account Privacy, etc. They also help to fix a slow computer by removing viruses and other threats. 
---
Price Comparison: BitDefender Family Pack vs Bitdefender Total Security
Let's compare Bitdefender family pack vs total security prices:
Starting

price of the Bitdefender Family pack

for 15 devices is $49.99 for the first year.

Starting

price of the Bitdefender Total Security

for 5 devices is $39.98 for the first year.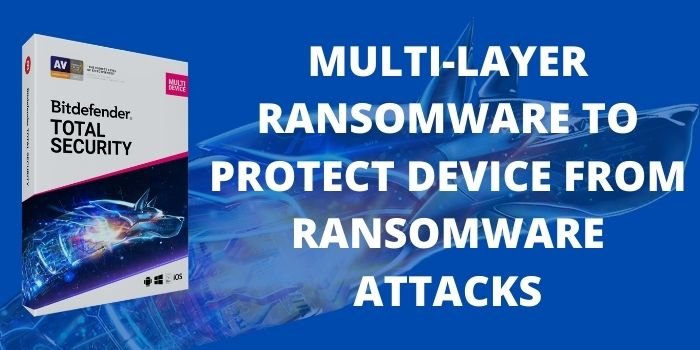 ---
Can I trust Bitdefender?
Bitdefender is one of the best antivirus and security software in the market. It comes with advanced malware protection along with a bundle of additional security features all inside an intuitive user interface.
Bitdefender can identify nearly 1000 malware files without affecting the system performance. Also, its web protection can detect far more phishing websites than its competitors.
---
Conclusion For Total Security Vs Bitdefender Family Pack
So we have come to the end of the comparison of Total Security vs Bitdefender Family Pack. In our opinion, the Bitdefender Family pack is better than total security because it offers protection for 15 devices at a quite affordable price. 
However, it is useful only for someone having 10+ devices. If you have less than 10 devices, you can choose Bitdefender Total Security. There is not a single difference of features between Family Pack and Total Security.
---
Also, Read Our Other Related Articles
Kaspersky Antivirus Vs Internet Security Vs Total Security 2021
Comparison between Kaspersky total security vs Norton 360 deluxe 2021
K7 total security vs Bitdefender total security
Kaspersky Total Security vs Bitdefender Total Security
---
Total Security Vs Bitdefender Family Pack | Which Is Better To Buy?