E-Marketing applies to markets conducted over the internet. It is an area of Marketing that is based on achieving targets by using digital mediums like Computers, Laptops, mobile phones, and other digital media platforms. e-marketing helps to promote products and services.
As digital platforms become more and more incorporated into Marketing plans and in everyday life. Using e-marketing allows for reaching the global market, increasing engagements, and also increasing customers rapidly. In this blog, We will explain e-marketing benefits and strategies that help you to grow your business online.
What Is E-Marketing And Example?
E-Marketing is also known as online or Internet Marketing which uses the internet and digital technology to promote products to customers. It is used to gather more information about the potential customer. The technology used in e-marketing like Websites, mobile devices, and social networking platforms.
Examples of e-marketing are Marketing people through social media platforms, websites, email, search engine optimization, paid advertising, mobile Marketing, and many more. Internet usage is increasing day by day and people are using the internet for more and more hours so this is a great opportunity for you to make your business, products, and service online and gather more customers.
Importance Of E-Marketing
Using e-marketing creates a strong Marketing strategy that helps you to reach and connect with your target audiences in a personalized way and increase sales within budget.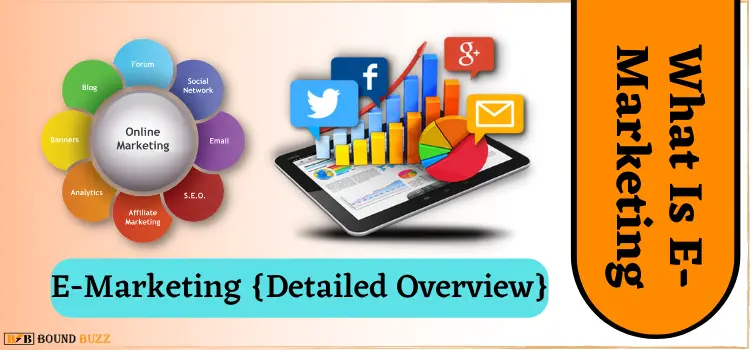 Below mentioned some reasons that help you out how e-marketing grows your business online:
Stay In Connect With Your Audiences:
Internet Marketing e-marketing can keep your customer informed about the latest products and announcements. Your users who subscribe and follow you receive notifications on their devices whenever you launch new products and services.
Reach Customer In Real Time:
According to the study, peoples are more engaged with online Marketing and its tools. More and more consumers are using their mobile devices to access the internet along with social channels. People engage more quickly through internet Marketing and a great strategy you have created.
E-Marketing Is Easy To Measure:
E-Marketing is used in internet Marketing and tools. Tools that provide real-time customer insights, engagements, and clicks that all can be measured in the tool's dashboard. The major part of e-marketing is that you can track your user's activity and record for the re-Marketing also.
It's Affordable
E-Marketing is affordable and within budget due to free internet services. You just have to use the best strategy and plans that attract the user more and more. In e-marketing, you get significant ROI which helps you to grow your business rapidly and you should know the ways to boost business growth with digital marketing and keep updated yourself everday.
Increase Brand Awareness
There are so many ways to increase your brand awareness like social media, Advertising on google, Write Blogs on your products, Through websites, emails, and much more. You can increase your brand awareness through these platforms and gather so many consumers.
What Are E-Marketing Objectives?
The main objective of e-marketing is to use digital technologies such as social media platforms, websites, and mobile devices to reach your customers, create awareness, of your brand and sell your services and products. Using Internet Marketing helps to reach potential customers and grow your business.
Types of E-Marketing
A Good marketer knows how to pick the best-suited Marketing strategy for optimal results.
Here Are The Most Common Types Of E-Marketing:
Social media marketing
Search engine optimization
Paid advertising
Email Marketing
Content Marketing
Social Media Marketing:
No one can deny the power of social media these days. There are lots of people who use more and more hours on social media. Therefore the chance of e-marketing through social media platforms is increased and you can make a presentation of your products and services on social media platforms and earn the best ROI.
Search Engine Optimization:
SEO is the best way to get your brand to appear on the first page of search engines. But it is not easy as many strategies are adopted to make it successful. Through search engine optimization you can collect organic traffic without any investment, but first, you have to be patient as it is a slow process to make the webpage appear on the first page of a search engine like google.
Paid Advertising:
You can use PPC (Pay per click) for search engine, especially google for every click on the ads that drives traffics back to your site. In this method, you should have a great knowledge of bidding and market research because firstly you have to invest money in this to advertise your products and services with an eye-catching landing page.
Email Marketing:
Email Marketing is the proven best Marketing strategy when you want to keep your customer closer and informed about your products and services. Newsletters of emails can be used to serve your subscriber's free content like ebooks, vidoes, and much more and grow your business.
Content Marketing:
If your business is online and wants to drive traffic through your website then write readable content which has the availability to convert readers into conversions. Content Marketing works closely and even combines with social media Marketing.
Advantages Of E-Marketing:
Ability to target your customers cheaper and faster
Increasing leads
Real-time interaction between the marketers and the end user
Reaching the right people at the right time
Sending timely campaigns
One-to-one Marketing experience
Increased interactivity
Ability to scale with the market
Geo-targeting
Creating personalized content
Communicating with your audience.
Appeal to specific interests
Disadvantages Of E-Marketing:
If you want a strong online advertising campaign, you must spend money.
Sometimes users want to interact face to face conversation
Due to the internet hackers and cyber criminals always keeps their prying eyes on your costly data
What Are The Roles Of E-Marketing?
The main purpose of e-marketing is to achieve Marketing objectives with the help of digital technologies. The role of e-marketing is to help you to gainer new traffic, leads, conversions, and sales for your business by reaching potential consumers.
Using e-marketing increases brand awareness as well as driving traffic and gaining leads for the business. Digital marketers apply their all efforts to understanding the brand key and choosing the right channels for running their Marketing campaigns and developing their business. If you want stay in this market then keep yourself updated with the modern digital marketing funnels to know the strategy.
Wrapping Up: E-Marketing
It does not matter that whatever Marketing strategies you apply, they should be well-targeted and perfectly based on market research. Additionally, it is necessary to consider the needs and desires of your customers, The market and your product should be coherent and consistent.
In e-marketing, you have to update with the latest Marketing strategy and learn every day. You can increase your business rapidly with the help of e-marketing and digital platforms that you use in the campaign.
Why Is E-Marketing Important Nowadays?
Using e-marketing helps you to drive more traffic and increase your business. You can reach your potential customers rapidly with the help of digital mediums.
What Are The Factors Affecting E-Marketing?
The major factors that affect e-marketing are relative advantages, IP expertise, top management support, Complexity, and much more.
What Is E-Marketing? {Meaning, Advantages & Types}