Cloud storage is a service in which digital data is transmitted and stored in logical pools. It is a convenient and reliable option to store and recover your data. Cloud storage has dominated the consumer market of storage for years. 
If you are considering investing in cloud storage for your business, you are not alone. The business of all sizes is starting to adopt cloud services in some capacity. These pros and cons of cloud storage will help you to understand is it right for your business or not.
---
How does Cloud Storage Work?
Since cloud storage has become popular, the size and maintenance are quite different. The smallest cloud storage may consist of a single server. And the other cloud storage may be gigantic and can fill your entire warehouse.  
Let's use the example of Instagram to understand it. If you log in with your computer, phone, tablet, or cyber cafe. Your account chat, stories, and saved are the same because it is not stored on your device. The data is stored in the Instagram provider's server.
---
Some Best Cloud Storage Service Providers
These are some of the best & affordable cloud storage service providers you can think of:
pCloud
pCloud is one of the best cloud storage service providers. It offers the best features and services to its users. Its cloud storage services are used by many peoples. Also, it uses the best encryption for securing your data. And guess what currently the company is offering some exciting discount offers to its users by using this pCloud Coupon you too can take advantage of this exciting deal. You also have e better option to choose its plan between the pCloud family plan vs individual according to your choice. 
---
Dropbox
Dropbox is another best cloud storage service, provider. Also, it is the best alternative to pCloud. It has so many exciting features and other security options for the safety of your data.
---
Box
The box is one of the well-known names in the cloud storage field. The software has an easy-to-use interface plus provides so many features to its users. Also, it syncs all of your files automatically.
---
Types Of Cloud Storage
There are 3 types of cloud storage for different types of cloud storage solutions. This includes public, private, and hybrid clouds. The different types of cloud storage provide different types of benefits as per the requirement of the individual business. They all had different pros and cons of cloud storage services.  
In public cloud storage, the provider owns and manages all the cloud architecture- software, hardware, and other infrastructure and delivers its services over the internet. Google Cloud, IBM Cloud, Amazon web services, and Microsoft Azure are some examples of public cloud storage providers. In this, you'll get benefit from sharing resources with other businesses and it enables the provider to offer a lower price. 
Private cloud is used by one large enterprise or an organization. A larger enterprise that works with critical information is more likely to use a private cloud solution. Government agencies, financial institutions, healthcare organizations, and secret agencies are some examples of private cloud users.  
Hybrid cloud merges the solution of both public and private clouds and makes the unique type of cloud services that provide the benefits of both. Data and applications can move to the public and private cloud as needed. This model helps the business to deploy more data and gives more flexibility. 
The Pros Of Cloud Storage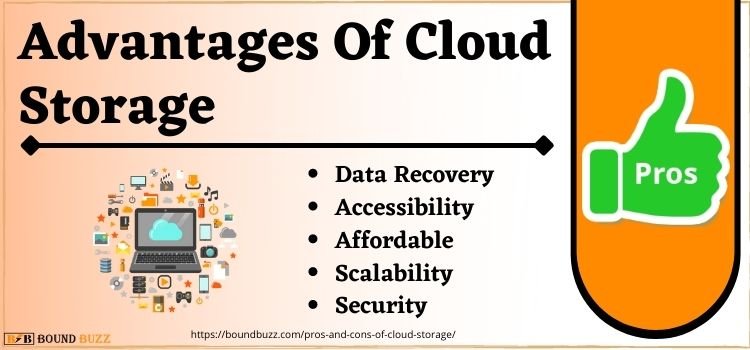 Cloud storage provides various benefits that result in money-saving, and convenience to users, compared to the traditional method. Here are 5 advantages of cloud storage.  
Losing your important and sensitive data is a nightmare for any company are individual. Cloud storage helps to reduce such risk, it makes a copy of your important files and data in a remote database. You can back up your data by an external device over the internet. It is one of the biggest benefits of cloud storage. 
You can access your data from anywhere and at any time. As your data is stored remotely you don't need to think about the geographic location, time zone, device, and other factors. It is helpful for travelers, or your team located remotely, as well as for entrepreneurs who are always on the move.
Cloud storage pricing is affordable as it comes with little cost for small and medium-sized organizations as it generally charges per storage you use. It helps you to save your capital of yours as it doesn't require physical hardware for storage. It also eliminates the need to pay for the software license. 
With scalability, you only need to pay for the amount of storage you used. As per your company's situation of growth or fall, the cloud operator can accommodate your corresponding situation to your need for storage. Unlike local storage, you can get more storage whenever your business required it.   
Professional cloud storage firms can provide more security to small and medium organizations, which they can't do by themselves. They offer security passwords for data storage. And sent the data over the internet by using encryption technology. This ensures high standards of cloud storage security and also user data security.   
The Cons Of Cloud Storage 
The digital way of storage has become popular in recent times with amazing benefits. However, it is necessary to consider the disadvantages of cloud storage. Here are 3 limitations of cloud storage.  
As your data is stored outside of your company, so there is no control of yours over it. This might be not an issue for small and medium enterprises, but it can be for large companies with complex storage needs. There is no customization feature for user companies.
The internet is not completely secure as there are chances of attack by hackers. Every year many companies suffer from stealing sensitive data by external hack attacks. As your business data is stored in the cloud, there is a vulnerability to attack. This is still a cloud storage security issue for users, while cloud storage providers strive to be one step ahead of hackers.
This is a disadvantage of cloud storage for businesses. Some cloud storage company trying to trap you in a fixed contract which can be dangerous for you in the future. If in the future, your storage data reduce, still you have to pay for the storage you are not using. 
Conclusion: Benefits And Limitations Of Cloud Storage
Even though cloud storage had a potential security threat, many companies prefer data recovery, scalability, and affordability more than the associated risk. 
It is beneficial, but it may not suit every business. After discussing the pros and cons of cloud storage, it depends on you whether it fits you or not. 
Also, Check
Advantages And Disadvantages Of Cloud Storage 2023