A digital advertisement is an advertisement on any digital platform. A digital platform can be social media channels, blog pages, search engines, etc. Bing is a search engine. It allows a  space for digital advertisements. Here we will be discussing the benefits of using Bing Ads.
---
What Is Digital Advertisement?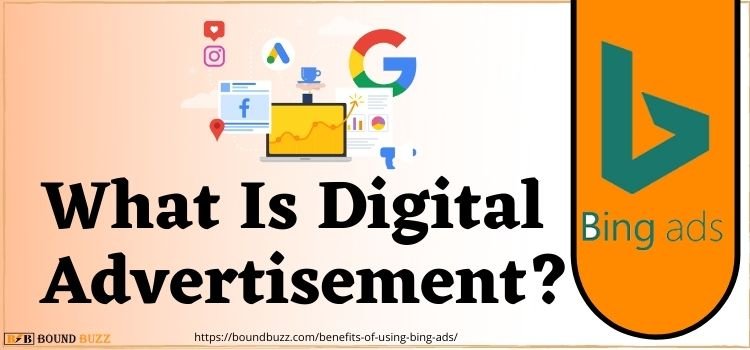 A digital advertisement on a search engine is called a 'Search  Ad'. It is also called sponsored ad, pay-per-click ad, and cost-per-click ad. A typical search ad has a headline, website link, and description. Clicking on this redirects the user or the visitor to the advertiser's web page.
---
What Is Ad Rank?
An ad begins with 'Ad' mentioned in the beginning. These initial websites have promised to pay money to Bing every time someone clicks on the ad. The benefit of the initial position is the most attention, clicks, and traffic. The positioning of the ad is called  'Ad Rank'.
---
What Do You Understand By Search Engine Marketing?
This rank depends on several factors other than the ability of the advertiser to pay or bid for the rank. Also, let us call the search results other than the ads as 'organic results'.  This form of marketing is called Search Engine Marketing (SEM), or sometimes called paid search marketing.
---
What Is Landing Page?
An ad shows up every time the user's keywords match the content of the ad.  Once the ad is clicked, the advertiser pays for each click. The click redirects the user from the search engine to the advertiser's website page called the landing page. 
From here, the role of the search engine ends, and that of advertiser begins. The advertiser's website is designed for the user to create awareness, interest, and desire to act. The expected outcome is sales of the advertiser's business offering. 
---
Why Do Digital Ads Matter? 
The digital ads are placed at the top positions of search results. So,  these get the most attention and clicks of the user. Hence, the chances of converting a user into a buyer are much higher as compared to that of other listings.
So, this is done to drive more people to a specific website. The more the clicks, the better chances of making online sales.  This is the benefit of using a digital advertisement. 
Note there is an exponential rise in the digitalization of almost everything! Be it groceries or banking services. We have moved into a  digital era. More people are to be engaged online instead of offline.
---
Why Should You Use Bing Ads? – Benefits Of Bing Ads 2022
Bing has some great advantages and benefits for the advertisers and for the users also.
♦ Bing is owned by Microsoft Corporation. The company holds a major market share for operating software and other products. Microsoft owns three search engines  – Bing, Yahoo, and AOL. Once an ad is placed on Bing, it automatically appears on Yahoo and AOL, if you wish. 
♦ This means you target three types of audiences with the cost of only one ad. Also, Bing ads are far cheaper than others such as Google AdWords. The bidding competition is low on Bing. 
♦ Bing's audience is more mature. More than 70% of people who use Bing are aged above 34 years. So, their audience captures wealthy people. 
♦ Bing Ads are especially beneficial for the automotive and insurance industry. Bing Ads allows for customized settings not only on the campaign level but also on the group level. 
♦ Besides, Bing  Ads can be customized to demographic factors. Moreover, different ad campaigns can be assigned to different time zones. 
♦ Bing Ads has an option to adjust the ad campaigns according to the device and operating system. Bing has large searches on the desktop.  Bing Ads also offers LinkedIn targeting. 
♦ With this feature, marketers can target using the visitors' LinkedIn profiles with job titles. Hence, Bing offers granular control of ad campaigns. 
♦ Bing Ads have high conversion rates. It is of great benefit for business-to-business (B2B)  marketing and offers more crisp and clear site extension links so the user can land on the page of specific interest. 
♦ Site extensions are action-oriented in Bing Ads. This is a notable feature which attracts the visitor. Furthermore, Bing has high year-on-year growth and is growing rapidly. 
♦ Bing Ads are of great benefit to small and medium-sized businesses with bing ads discount Code. Bing Ad campaigns can be imported from Google AdWords in a few clicks.
Also, Read: Bing VS Yahoo Vs Google
---
Conclusion – Benefits Of Using Bing Ads 
With the above information, Bing Ads offers quality traffic with a longer time spent on the landing page. Hence, Bing Ads have large traffic potential, and if unused then it is an opportunity missed. 
Yet, it is not suggested to replace ads from other search engines with Bing.  Every search engine has its unique offerings and features. It is best to use Bing Ads to complement the marketing on other search engines. 
Finally, everything we do is goal-oriented.  So, it is imperative to ensure that the goals of search engine marketing are fulfilled with the search engine ads. 
Read More: Bing Ads and Google Ads 2022 | Differences & Similarities
7 Ways to Drive Traffic and Sale to Your Online Store?
7 Common PPC Mistakes That Are Costing You
Benefits Of Using Bing Ads 2022 – Bing Ads Vs Googe Ads